Meet the Trainer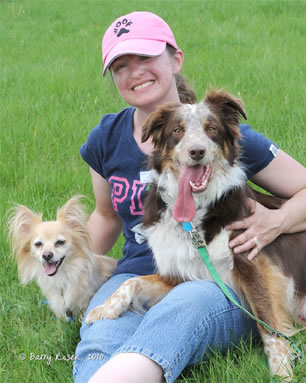 CPDT-KA - Owner/Trainer
TRAINING & STUDYING DOGS
IS MY PASSION
AND LIFELONG CALLING!
---
Melissa has been training dogs of all breeds for nearly 20 years and is a Certified Pet Dog Trainer (CPDT-KA). In addition to being a member of the Association of Pet Dog Trainers (APDT), she stays up-to-date on her craft through intense study programs and attending seminars hosted by the top dog trainers and animal behaviorists in the world. This diligence enables her to adapt her training protocol to each owner/canine team. She focuses on educating her clients about canine behavior, how to understand and communicate with their 4-legged family members and how to build a lifelong mutually rewarding relationship with them. She volunteers for Border Collie Rescue as a foster home and trainer/rehabilitator for feral/fearful dogs so they can be adopted into appropriate forever homes. She also partners with her own K9 crew to compete in Agility, Obedience, Frisbee and Rally.